1. Introduction
he involvement of families' who dress in beautiful clothes can be one of the main pillars of conflict and marital dissatisfaction from the beginning to the end of every marriage. Indistinguishable allows this interference from an original family. Self-differentiation is one of the key concepts in the theory of Bowen [
1
]. This concept reflects the individuals' ability to have an independent life apart from their family or the ability to distinguish between thoughts, emotions, and feelings. The theory of the Bowen family system consists of both internal and interpersonal dimensions [
2
,
3
]. Bowen (1978) refers to an incompatible family relationship as a fusion of family members. Bowen's theory emphasizes the need for differentiation at behavioral and cognitive levels for intrapersonal and interpersonal interaction, and defines individuals with differentiation of self, as those who control the situation by knowing the thoughts, feelings, and beliefs in very emotional situations. Differentiation of self would lead to the creation, commutation, or reduction of a variety of psychological constructs. On the other hand, undifferentiating people are not capable of decision-making and are tenderable to psychological symptoms [
4
]. Differentiation is linked to psychological adjustment, well-being, and self-control [
5
].
The Bowen theory provides a comprehensive explanation of the improvement and long-life marital relationships [
6
]. Furthermore, the healthy relationships between family members with a higher degree of happiness and self-differentiation are linked to marital satisfaction, stable relationships with the opposite gender, and effective parent-child communication. In addition, self-differentiation in connection with intellectual and emotional functioning helps to maintain individual identity and positive interpersonal relationships, in which increased life satisfaction, stable emotional levels, and positive attitudes toward marriage can be observed [
7
]. The Bowen theory suggests that a person can reach the level of emotional maturity when he is capable of communicating with the primary family rather than responding to various situations in an unwanted way. The level of differentiation of each person indicates his ability to separate intellectual and emotional processes [
8
].
Different studies have shown that self-differentiation training programs, aiming at reducing chronic anxiety [
9
,
10
], increasing family functioning, coping with stress, anxiety, and depression in married women [
11
], and increasing marital satisfaction [
12
,
13
] affects marital conflicts among married women [
9
]. BFST found and successfully implemented the interventions targeting marital conflict [
14
], sexual problems [
15
], and adolescent identity development [
16
]. Researches have shown that the relationship between safe attachment and interpersonal satisfaction, sexual functioning, marital satisfaction, and care are very close [
17
].
Many difficulties are preventable by training and developing mental health. On the other hand, the family's training is indispensable. The family is a system and changes in each component of this system can affect and change it [
18
]. Because differentiation is a part of the identity and taught, self-differentiation training can help improve differentiation and marital satisfaction.
This study investigated the self-differentiating training in women as a person of the whole system to find out if using the considered training they can improve their marriage and develop skills, such as lack of coalitions, lack of separation, and family tension, to help improve marital esthetics.
2. Methods
The present study was semi-experimental research with pre-test and post-test design. The statistical population of this study consisted of all the women who were referred to counseling centers in Tehran in 2018. Due to the population type, convenience sampling was used to select 24 women and they were randomly assigned to the experimental (n=12) and control (n=12) groups. Regarding the aim of this study to help improve marital satisfaction, 38 married women aged 35-25 years were evaluated for marital satisfaction and using differentiation questionnaires. Out of the responses given to the differentiation questionnaire, 24 individuals with a low degree of distinction were selected. Among the women who responded to these questionnaires, 24 individuals were identified as having a lower differentiation. For the assignment, these subjects were assigned to two experimental and control groups (n=12). The control group kept away from the educational process during the training sessions. The experimental group was trained weekly at a counseling center (Sokhane Ashena) for 10 weeks and the each session lasted 90-120 minutes [
19
].
Both groups were measured at the end of the training sessions. Data were collected concerning socio-demographic characteristics, such as age and education during an interview. The Babaie Khakian et al.'s [
20
] approach was used in the preparation of this training program.
Enrich Marital Satisfaction Scale: this scale has two types of 115 and 125 questions that identify difficult and gratifying backgrounds and determine the need for counseling for couples. According to Olson [
21
], mean reliability of 0.79, which was 0.86 using a test-retest method after 4 weeks was obtained for this scale. Its validity using correlation coefficient was reported from 0.41 to 0.60 [
22
].
Skowron and Schmitt [
23
] obtained Cronbach's alpha coefficient of 0.93. The scale including 115 questions makes the subjects fatigue; thus, a short version of it has been developed. Therefore, after calculating the correlation coefficient of each question with the questionnaire, 47 questions were considered. The reliability of the questionnaire was 0.95 using Cronbach's alpha coefficient. In the current research, the scale with 47 questions was used and the Cronbach's alpha coefficient was 0.92.
The options to answer the questions were "totally agree", "agree", "neither agree nor disagree", "disagree", and "totally disagree". The contribution of each of the items from right to left is 1, 2, 3, 4, and 5. The maximum score on the scale is 235, which is a higher mark of happiness in marital life.
Differentiation of Self Inventory-revised (DSI-R): This scale is perhaps the most commonly used and well-validated scale in this field. This inventory enables respondents to report their relationship with other members of their family [
24
]. Skowron [
25
] reported the Cronbach's alpha coefficient of this scale to be 0.88. Fakhari et al. [
26
,
27
] obtained Cronbach's alpha coefficient of 0.79. In the current research, Cronbach's alpha coefficient was 0.80.
Each question has six options from "very good for me" to "it's never about me right" and is scored on a 6-point Likert scale. The DSI full-scale score is calculated by reversing raw scores of all items on the ER, EC, and FO sub-scales and one item on the IP sub-scale and summing them so that the higher scores reflect the greater differentiation (less emotional reactivity, less difficulty in maintaining I-positions, and less emotional cut off and less fusion).
In this research, the data were described using the tables, mean, and standard deviation, and compared with a t-test. The Analysis of Covariance (ANCOVA) was used to compare the mean scores in the two groups. Data were analyzed using descriptive and inferential statistics. Group differences were evaluated using multivariate MANOVA and the contribution of each variable in the prediction of the quality of life of working and non-working women was determined by multivariate regression analysis. The purpose, content, and the training program in each meeting are presented in
Table 1
.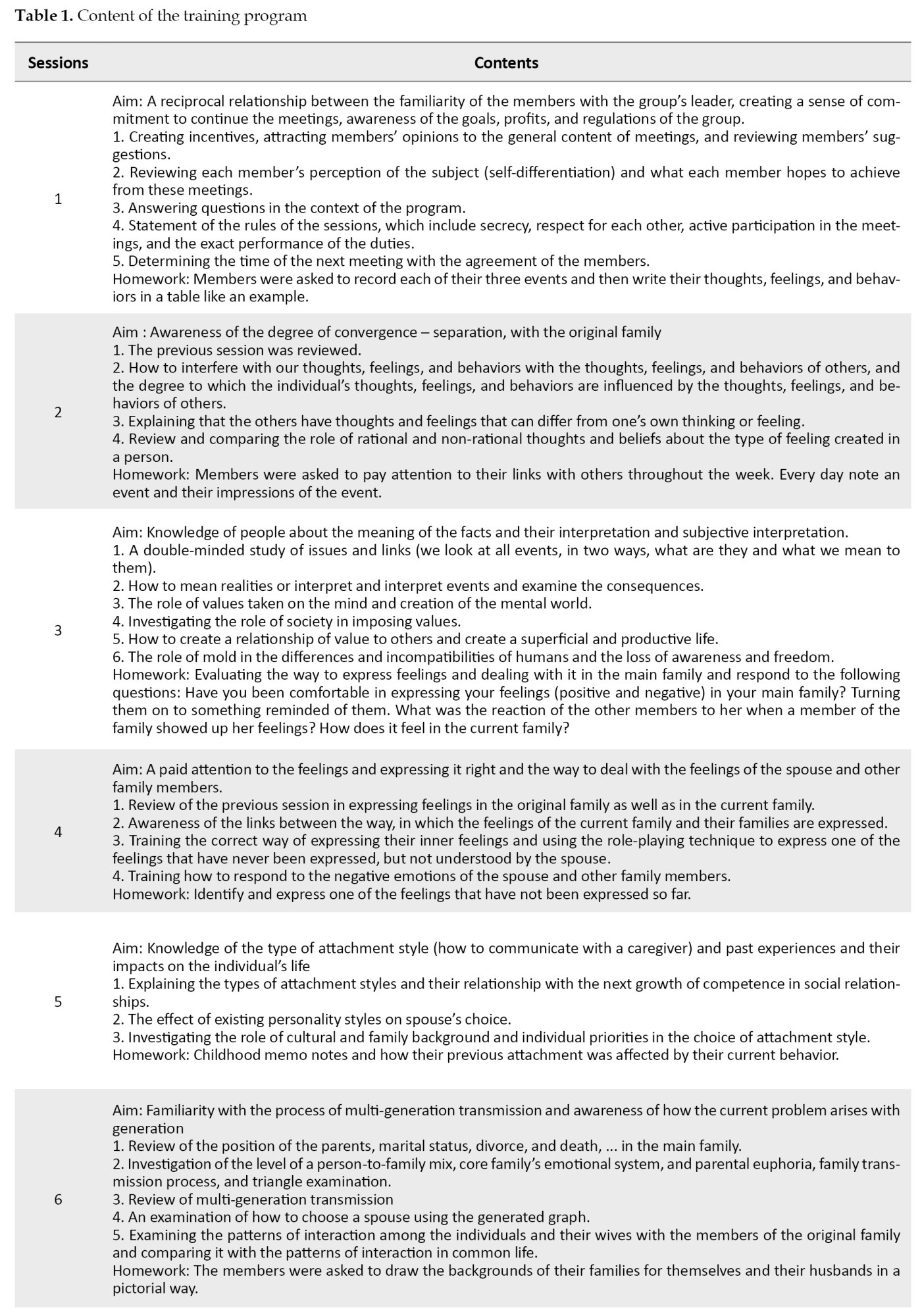 3. Results
The Mean±SD of age in the experiment group was 30.58±3.61 years, while it was 29.92±3.18 years in the control group. Furthermore, both groups were homogeneous regarding the educational level. in the experimental group 33.3% had a high school, 41.7% had a bachelor's degree, and 25% master's degree, while in the control group, 25% had a high school 50% a bachelor's degree, and 25% a master's degree. In the beginning, it was necessary to ensure from the ANCOVA test assumptions that Levene's test was used for this purpose based on the homogeneity of the variance of two groups for a variable.
The results of the t-test (t= 0.138, df= 22; F= 0.183) showed that the two experimental and control groups were homogenous in the pre-test in terms of marital satisfaction. Because the significance level was higher than the critical value of 0.05 for both pre-test and post-test scores of marital satisfaction, this variable was concluded to follow a normal distribution.
There was a significant difference between the post-test scores of marital satisfaction (
Table 2
) so that its mean scores in the post-test (Mean= 152) in the experimental group were significantly higher than the control group (Mean= 128.67).
In other words, self-differentiation training caused an increase in marital satisfaction in the experimental group. Therefore, the hypothesis of "there is a significant difference in marital satisfaction between married women who participated in self-differentiation training based on the Bowen Theory and this training is effective in increasing marital satisfaction, was confirmed.
Table 3
shows that the marital satisfaction in the two experimental and control groups was compared with independent t-tests and the t-test (t= 21.62, df= 22) results indicated the significant effect of passing the course of self-differentiation training on marital satisfaction in the experiment group.

4. Discussion
It was assessed whether self-differentiation can help people improve their marriage. Although the findings of Marcos [
28
] were inconsistent with other studies and he found no relationship between self-differentiation and marital satisfaction but the relationship between the self-differentiation and marital satisfaction has been shown in various studies. Equivalence of spouses' differentiation has also been reported in some studies [
29
]. In addition, studies have shown that self-differentiation can predict intimacy, adjustment, marital satisfaction, and quality of life [
30
]. Bowen showed that highly differentiated individuals are more satisfied with their lives [
31
], well-being [
32
], and marital relations [
33
]. The impact of differentiation on marital satisfaction was found to be stronger in men than women, and marital satisfaction in women decreased with age while it increased in men [
34
].
Those with higher levels of differentiation are not influenced by the emotional reactivity of others, but rather by their values and sense of self. Thus, a more differentiated partner will be able to separate the anxiety due to symptoms and act toward the other in ways that would maintain relationship satisfaction and be supportive of one another [
35
]. More differentiated persons are expected to establish greater autonomy in a relationship without experiencing debilitating fears of abandonment and can achieve emotional intimacy in that same relationship without fear of feeling smothered [
36
].
Emami Rizi and Borun demonstrated the effect of training for self-differentiation on marital satisfaction among female married students. Previous studies have reported the usefulness of self-differentiation training to improve the mental health of divorced people [
37
] and women experiencing domestic violence [
38
].
Bowen (1978) explained many personality characteristics in terms of differentiation. For instance, highly differentiated people were capable of thoughtful consideration, connection with significant others while maintaining a separate self and setting a more objective life course, and they were more flexible, adaptable, and emotionally independent when compared with their lower differentiated counterparts [
39
].
A study was carried out to identify factors affecting marital satisfaction among married women and its results showed that self-differentiation in the family of origin had a mediator effect when the experience of the family of origin influenced marital satisfaction. Also, various practical solutions, including consultation with the family, treatment, and the need for marital education improved marital satisfaction of married women [
40
].
5. Conclusion
The findings of the present research showed the importance of the training based DST on increasing marital satisfaction. Therefore, it can be used in educational programs for increasing performance among women. Moreover, the improvement of their family function should also consider in addition to conduct certain programs for improving marital satisfaction among the women. Finally, the lack of a follow-up and using only one gender (married women), from one counseling center in one city make it necessary to generalize results with more caution. In future research, it is suggested that a wider statistical population be used and statistical samples are selected from both genders (men and women).
Based on the shortcomings observed in the current research, it is recommended that this research be carried out on the women with their husbands. Since this research was done on one of the couples (women), it is suggested to the couples simultaneously and compare the results with this study.
Ethical Considerations
Compliance with ethical guidelines
This study was approved by the Department of Psychology, Faculty of Education Science and Psychology, Payame Noor University (Code: IR.PNU.REC.1400.066). All ethical principles are considered in this article. The participants were informed about the purpose of the research and its implementation stages. They were also assured about the confidentiality of their information. They were free to leave the study whenever they wished, and if desired, the research results would be available to them.
Funding
This research did not receive any grant from funding agencies in the public, commercial, or non-profit sectors.
Authors' contributions
Both authors equally contributed to preparing this article.
Conflict of interest
The authors declared no conflict of interest.
References