1. Introduction
Coronavirus disease 2019 (COVID-19) was first identified in December 2019 in Wuhan, China [
1
]. The World Health Organization (WHO) identified COVID-19 as an epidemic in January 2020 [
2
]. The disease has spread rapidly in other countries, such as Iran, Italy, France, Spain, the United Kingdom, Brazil, and the United States [
3
]. The disease has since spread to many other countries.
Various statistics of new cases, total cases, new deaths, total deaths, new recovered cases, total recovered cases, and serious/critical cases have been provided in different countries to date. However, given the incubation period of COVID-19 and no symptoms in many people with the disease, these statistics are not accurate and reliable [
4
,
5
].
Given the widespread prevalence of this disease in communities and the death of many people due to the disease, many studies are needed to better understand the nature of the disease. It is also necessary to identify all ways to prevent and combat this disease.
Transmission of COVID-19
COVID-19 can be transmitted by coughs, sneezing, or breathing out through droplets of infected fluid [
6
]. Most of the droplets spread on surfaces [
7
]. People possibly will catch COVID-19 by touching polluted surfaces and while touching their mouth, nose, or eyes [
6
].
Symptoms of COVID-19
The biological effects of COVID-19 are still being debated. The range of symptoms of this disease is wide. However, some clear signs and symptoms include cough, fever, tiredness, a loss of smell or taste, difficulty in breathing, headache, muscle aches, sore throat, and chills [
8
,
9
].
The important point of this disease is that some people may possibly have no symptoms during the illness. Older people are at greater risk of severe infection of COVID-19 [
10
]. Moreover, people who have existing medical conditions (such as diabetes, cancer, pulmonary diseases, weakened immune system asthma, and high blood pressure) may be at a higher risk of the severe form of the disease [
11
,
12
,
13
].
2. Methods
The review was completed using online databases, including Google Scholar, PubMed, and the WHO website in the English language. Keywords included "COVID-19" AND "life" AND "recommendation"; "COVID-19" AND "life" AND "solution"; "coronavirus" AND "life" AND "recommendation"; and "coronavirus" AND "life" AND "solution". Inclusion criteria were English studies that were available online after September 2020 and before August 2021. Exclusion criteria included non-English papers and studies published before September 2020 or after August 2021. The Assessment of Multiple Systematic Reviews (AMSTAR) method was used for the research strategy.
3. Results
A total of 105 studies were collected, of which 72 studies had unrelated data. Data from 33 studies were used after excluding unrelated studies. All articles included in the review had been published in 2020. The main results of the studies are summarized in
Figure 1
.
4. Discussion
Effects of COVID-19 in daily-life
The COVID-19 can have direct or indirect biological and psychological effects [
14
]. On the other hand, it has been determined that the economic situation of different countries has reached an unfavorable situation due to the outbreak of this disease [
15
,
16
]. According to previous studies, biological, psychological, and economic effects are related to each other and can cause or exacerbate another [
17
,
18
].
Biological effects of COVID-19
Although biological effects caused by COVID-19 have not yet been fully elucidated and further studies are needed in the future, some of the biological effects are shown in
Figure 1
based on previous studies. Some biological effects caused by COVID-19 include immunological changes [
5
], neurological diseases [
19
], cardiovascular disorders [
20
], pulmonary diseases [
21
], endocrine disorders [
22
], renal disorders [
23
], gastrointestinal disorders [
24
], and sexual disorders [
25
].
Psychosocial effects of COVID-19
The psychosocial effects of the outbreak of COVID-19 in different societies are direct and indirect [
26
,
27
]. Some of these effects may be due to neurological and biological disorders, and others may be due to changes in past social habits and behaviors. Some of the psychological effects of the outbreak of COVID-19 in the world are shown in
Figure 1
.
Economic effects of COVID-19
The cost of treating COVID-19 patients and preventing people from COVID-19 is one of the most important direct causes of the economic problems caused by the outbreak of COVID 19. Loss of manpower due to death from COVID-19 could also become a serious problem in many occupations that require expertise and experience [
15
,
16
].
Studies have shown that with the spread of COVID-19 in the world, the economic situation of different countries is facing many problems [
15
,
28
]. One of the most important reasons for economic problems is the reduction of the use of recreational and tourism services, especially in tourist countries, as a result of which there is a decrease in demand and production of various products [
28
].
Based on collected data in England and Wales, the death rate due to COVID-19 in men was more than women between 9 March and 25 May 2020 [
29
]. Elementary occupations or caring, leisure, and other service occupations had the most rates of death due to COVID-19 in men [
29
]. Furthermore, process, plant, and machine operatives had the most rates of death due to COVID-19 in women (
Figure 2
) [
29
].
Terrell reported that ten occupations were hit hardest by the COVID-19 pandemic in the USA in 2020 [
30
]. Small business owners, transportation, sales, arts, design, entertainment, and media workers had the most laid off or reduced hours and pay as mentioned in
Figure 3
[
30
].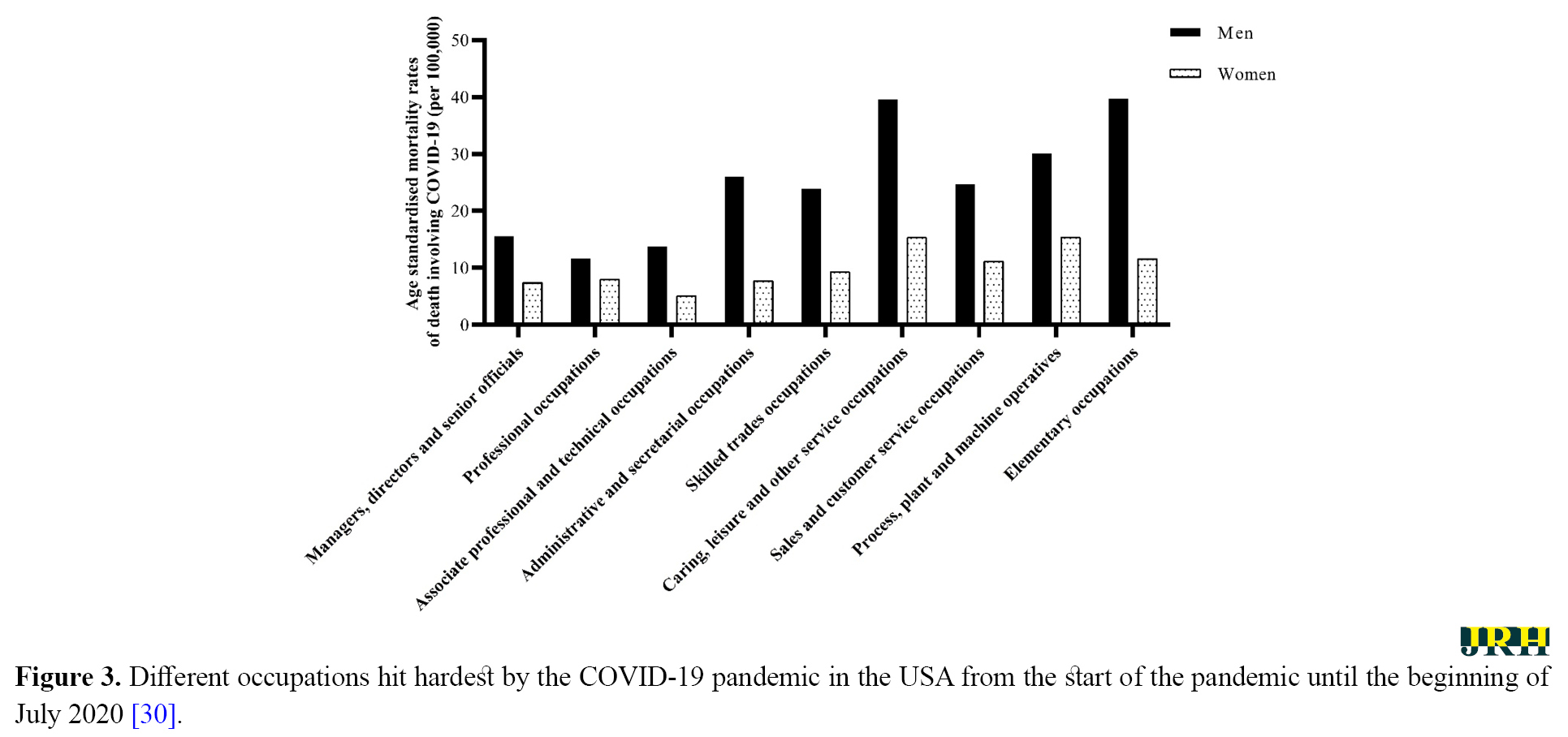 The proposed recommendations
It seems that the occupations with the highest rates of death due to COVID-19 (
Figure 2
) will suffer more from economic losses compared to other jobs due to the loss of skilled labor; therefore, more labor force will be needed for these jobs in the future. Moreover, various national and international organizations should pay more attention to these jobs compared to the past. For example, more training for preventing the spread of COVID-19 should be given to employees in these occupations compared to other occupations. Also, in vaccination, people working in these jobs should be given priority over other jobs. On the other hand, governments should provide more facilities for the occupations that have suffered from economic losses more than other occupations due to the COVID-19 pandemic (
Figure 3
), and even provide them with alternative occupations.
Due to the widespread prevalence of coronavirus and multiple mutations in the virus, it is necessary to provide recommendations beyond the use of personal protective equipment or frequent hand washing [
31
]. People should co-exist with COVID-19 and change their life to be safe from the disease. Some suggested strategies for preventing and controlling COVID-19 are presented in
Figure 1
. The recommended strategies include improving biological and psychosocial conditions. Moreover, reducing risky behaviors, such as smoking, increasing work shifts, or online businesses are some useful recommendations along with vaccination.
This study was a short review of different changes in people's life caused by COVID-19 and recommended some methods to live healthy during the pandemic. We recommend a comprehensive study using systematic review and meta-analysis methods to improve this study. Moreover, due to the novelty of COVID-19 and the various studies that have been going on until the writing and preparation of this article, it is best for readers and researchers to refer to the latest articles related to this virus as much as possible.
5. Conclusion
Given the widespread prevalence of COVID-19 and the prolongation of public distribution of vaccines, solutions and recommendations to control this disease should be provided beyond the use of personal protective equipment. On the other hand, these solutions should be published and made available to the public as soon as possible. All aspects of individual and social life that are affected by the COVID-19 disease should be considered in the proposed solutions. This study showed that people should not resist the changes in their life that could help them to prevent COVID-19.
Ethical Considerations
Compliance with ethical guidelines
There were no ethical considerations to be considered in this research.
Funding
This research did not receive any grant from funding agencies in the public, commercial, or non-profit sectors.
Conflict of interest
There were no conflicts of interests to disclose.
Acknowledgments
The author appreciates Department of Occupational Health Engineering, Faculty of Health, Tabriz University of Medical Sciences.
References